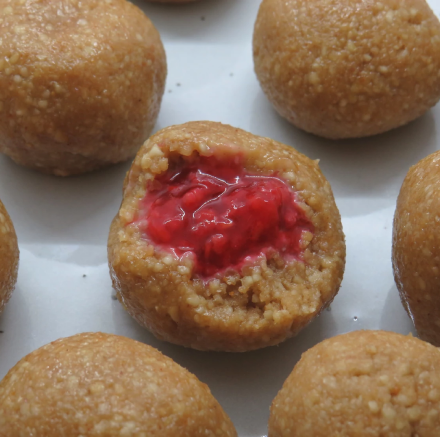 These peanut butter and raspberry jam energy balls are a healthy energizing snack with an oozing filling in the middle!
INGREDIENTS
Peanut Butter Dough
1 Pint of Doughy Peanut Butter
Raspberry Jam
12 ounce bag frozen raspberries (about 2-2 1/2 cups)

1 tbsp monk fruit

1 tsp vanilla extract

1/4 cup water

1 tsp cornstarch + 2 tbsp water
DIRECTIONS
Raspberry Jam
In a saucepan over medium heat, stir together 1 1/2 cups raspberries, monk fruit and water until the sugar is dissolved. Heat the mixture to boiling, stirring often. Reduce heat and add the vanilla.

In a small cup, combine the cornstarch and two tablespoons of water. Mix well.

Pour this into the boiling raspberry mixture. Stir and boil over medium-low heat for 4 minutes or until the mixture has thickened a bit.

Remove the pan from the heat.

Allow the mixture to cool for 15 minutes, then add the last of the raspberries and stir to mix.

Makes 2 1/4 cups sauce. Refrigerate the leftovers.
Peanut Butter Raspberry Balls
Line a baking pan with parchment paper and place about 15 small dollops (about 1 tsp each) of jam on the pan.

Place in the freezer for at least 2 hours to let the jam firm up.

Using your hand scoop out some of the dough and flatten into a disk shape.

Remove the jam from the freezer and place a dollop in the center of the disk.

Fold up the edges sealing the jam in the center, (like folding a dumpling) then roll between your hands to form a ball.

Repeat the process for each ball.